Blissfully signup customers in your loyalty program.
Increase customer visits through loyalty module on the POS providing your customers the satisfaction with discounts on the point redemptions.
Keep your customers attached by offering reward points on every instore and online purchase
Instant access to each customer's loyalty points by simply heading into their profile
Redeem loyalty points straight from the POS and have the remainder automatically adjusted
Quick and easy migration of loyal points from your current system to SalesPush
Easily configurable with features to set parameters.
Points-based incentive programs are easy to communicate, and readily understood by customers.
Rename the loyalty program through settings to your industry-specific prefix

Allocate the loyalty points according to the pre-defined rules that are easily configured
Flexible settings to offer maximum loyalty points a customer earns on every transaction
Set the minimum amount the customer should spend to get loyalty points per order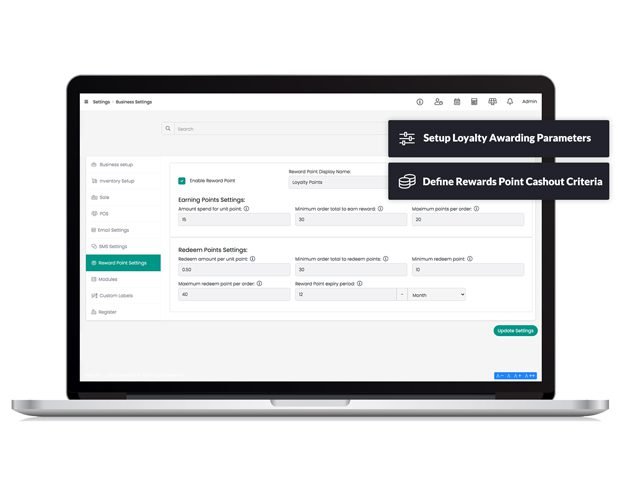 Offer redemption of loyalty points to attract customers.
The loyalty program allows you to make new customers that are converted into permanent buyers and results in constantly increased revenues.
Define the minimum and maximum loyalty points that can be used on a transaction
Adding expiration for loyalty points, ensure that the customers return sooner
Use loyalty points to offer discounts to your customers on their next purchase
A one click process to view and redeem loyalty points directly from the POS
Can I pre-define the loyalty points earning criteria?
Yes, you can configure loyalty points to pre-defined rules with the option to redeem straight from the POS while the remainder will be adjusted automatically.
You can also set the maximum amount of loyalty points a customer earns or redeems on a single transaction.
Can I set an expiration date for the loyalty points?
Yes. You can set the expiration date for the loyalty points creating urgency amongst customers to redeem the awarded points sooner.
How would my business benefit from the loyalty program?
By setting up the loyalty points program, you can encourage your customers to re-visit, redeem points for cash discounts and increase customer loyalty.
If I switch over to SalesPush, would my customers lose their earned points?
No. Our data tools help you to import all details of your customers, including their reward points. When importing data, you can simply add their existing reward points and once the import is done, the reward points would be added against each customer.