Swiftly sign consumers up for loyalty points.
Entice consumers to return to your business with a loyalty module on the POS that provides your customers with pleasure through savings on point redemptions.
Keep consumers coming back by giving reward points on each transaction that may be used later
Use the loyalty points to provide consumers with discounts on their next transaction
Quick access to each customer's loyalty points by just navigating to their profile
The ability to redeem loyalty points directly from the POS and have the remaining immediately adjusted
Easy to set up with modifications according to your preference.
Our loyalty point program is significant as it helps you retain old customers and obtain new ones with settings that could be configured according to your business requirement.
Easily customizable name that may be tailored to your company's requirements
Allocate the loyalty points following the predefined rule, Y points will be awarded for each X purchase
Set the minimum amount that a client must spend to get loyalty points for each order
Flexible options to give the most loyalty points a client may earn in a single purchase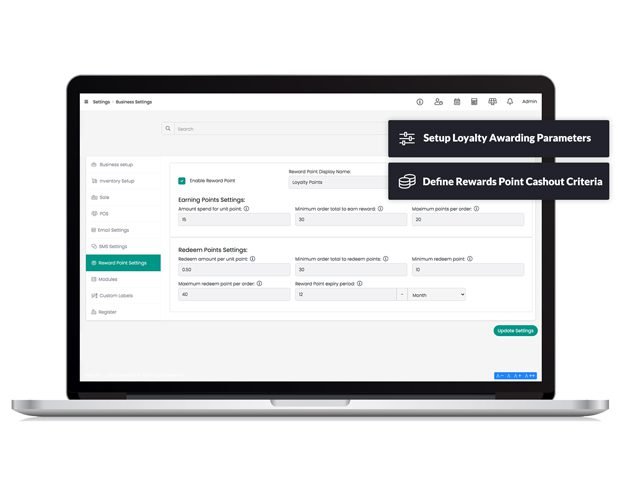 Consumers may claim their loyalty points to get discounts.
Redeeming reward points has never been easier thanks to the integrated loyalty on the point of sale.
Customers can use their reward points following the predefined parameters
Option to choose the minimum and a maximum number of loyalty points that may be utilized on a single purchase
Set the expiration date for loyalty points to guarantee consumers return sooner rather than later
Set a minimum order total for consumers to redeem points
Can I pre-define the loyalty points earning criteria?
Yes, you can configure loyalty points to pre-defined rules with the option to redeem straight from the POS while the remainder will be adjusted automatically.
Decide the maximum amount of loyalty points a customer earns or redeems on a single transaction.
Can I set an expiration date for the loyalty points?
Yes. With flexible settings, you can decide the expiration date based on months or years.
How would my business benefit from the loyalty program?
Loyalty points help you to offer discounts with loyalty point redemption, increasing customer visits, and user experience.
You can use the loyalty points to offer discounts to the customers on their next purchase, hence, encouraging them to visit again.
If I switch over to SalesPush, would my customers lose their earned points?
Our import tools help you import all the details of your customers, including their reward points.
When importing data, you can simply add their existing reward points and once the import is done, the reward points would be added against each customer.