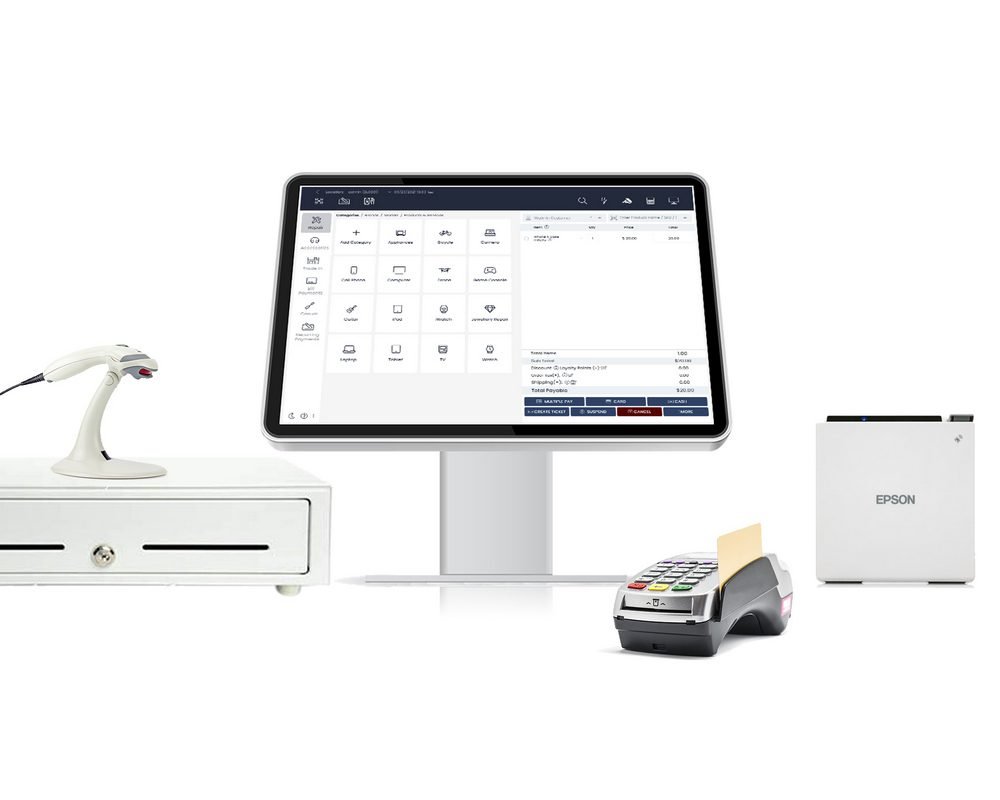 Create tickets, assign technicians and keep the customers updated.
Create repair tickets at the repair point of sale and notify your customers of every change made to their repair status. Offer commissions and appoint repair jobs to your technicians.
Take signatures from customers on the customer-facing display on your store terms and conditions
Repair tickets can be created from the POS and set the workflow according to your business needs
Notify the customers automatically about the status of their repair
Assign technicians to your repair tickets and mark pre-repair conditions for the device
Advanced invoicing with multiple payment methods.
SalesPush offers swift invoicing and a complete POS solution for repair shops to streamline the checkout process. All your suspended sales or quotations can easily be converted into sales.
The split payment feature allows your repair store to process one transaction in cash and card
Repair tickets and sell products both are handled through the POS for a speedy and user-friendly experience
Create quotations from POS and easily convert them into invoices for a speedy process
Issue refunds from the POS by using the search bar to find the relevant invoice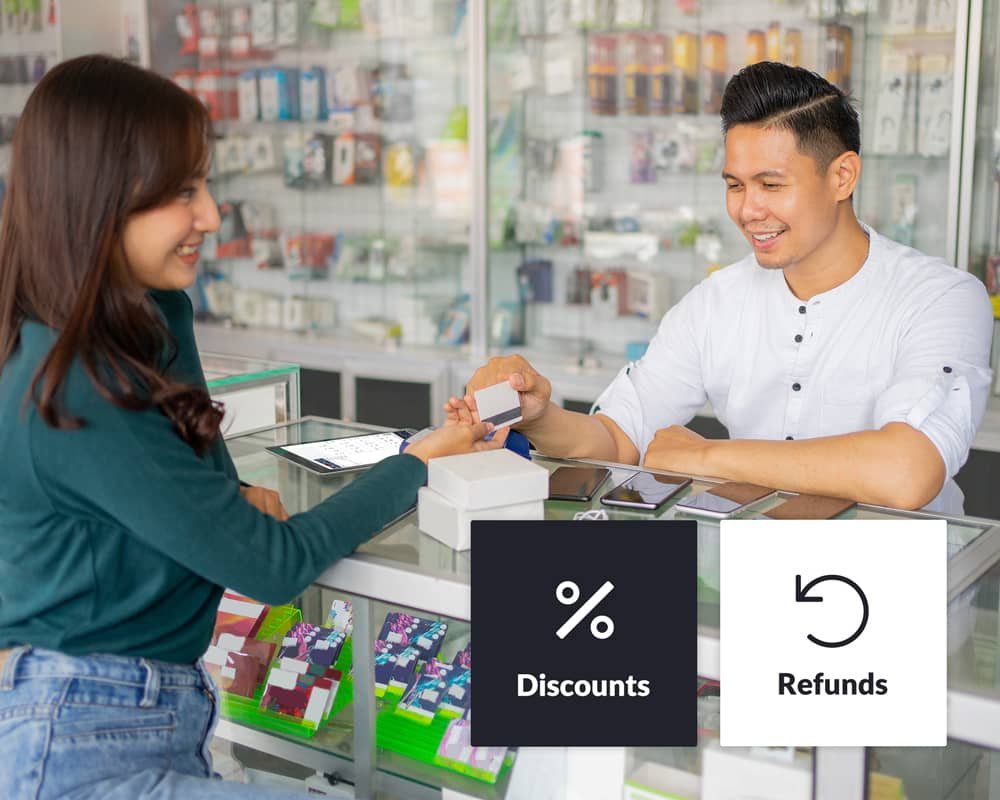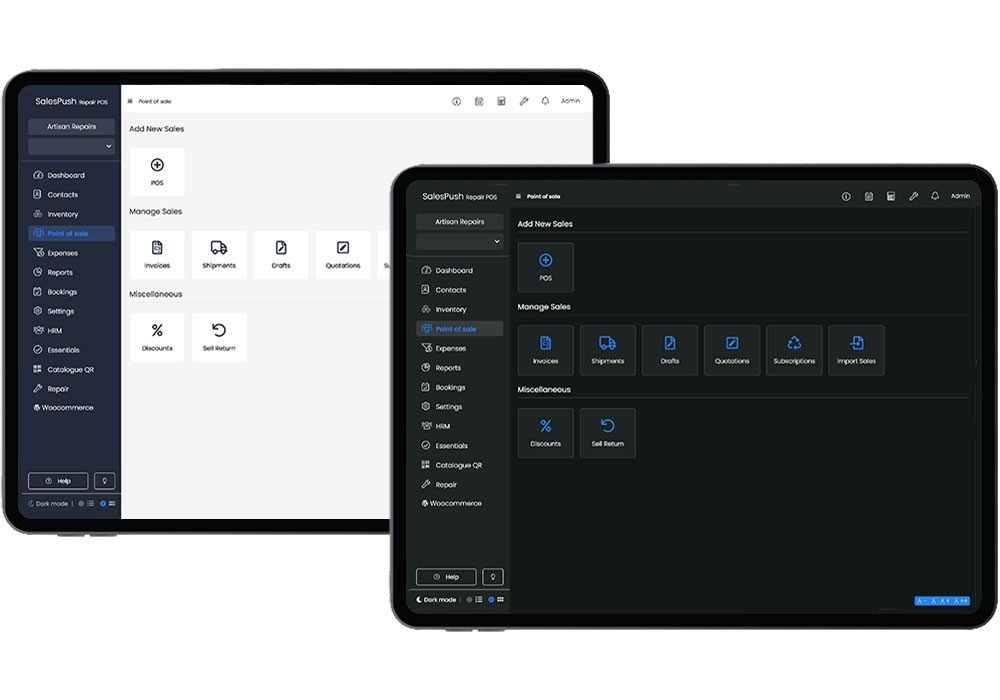 Easily customizable repair point of sale in business.
Completely customize your repair POS according to your preference. SalesPush offers an unmatched experience that allows changing the layout, arrangements, modes, and a lot more.
Speed up the selling process by using the quick mode and predefined shortcuts
Re-name and rearrange the sections according to your business needs
Manage all your repair stores under one solution and option to switch between stores
Change the complete POS from light mode to dark mode as one desire
Strengthen the shopping experience with SalesPush.
Manage all of your repairs, invoices, orders, and stock through the point of sale. Smoothly check out and reward customers with loyalty points to ensure regular visits.
Develop customer loyalty by providing loyalty points at every checkout and building a strong customer relationship

Offer discounts to your customers in the form of a percentage or a fixed amount

Manage all your repairs and invoices under one tab, use the search bar to pull up the details, and save time

The customer-facing display allows taking signatures and their rating about the experience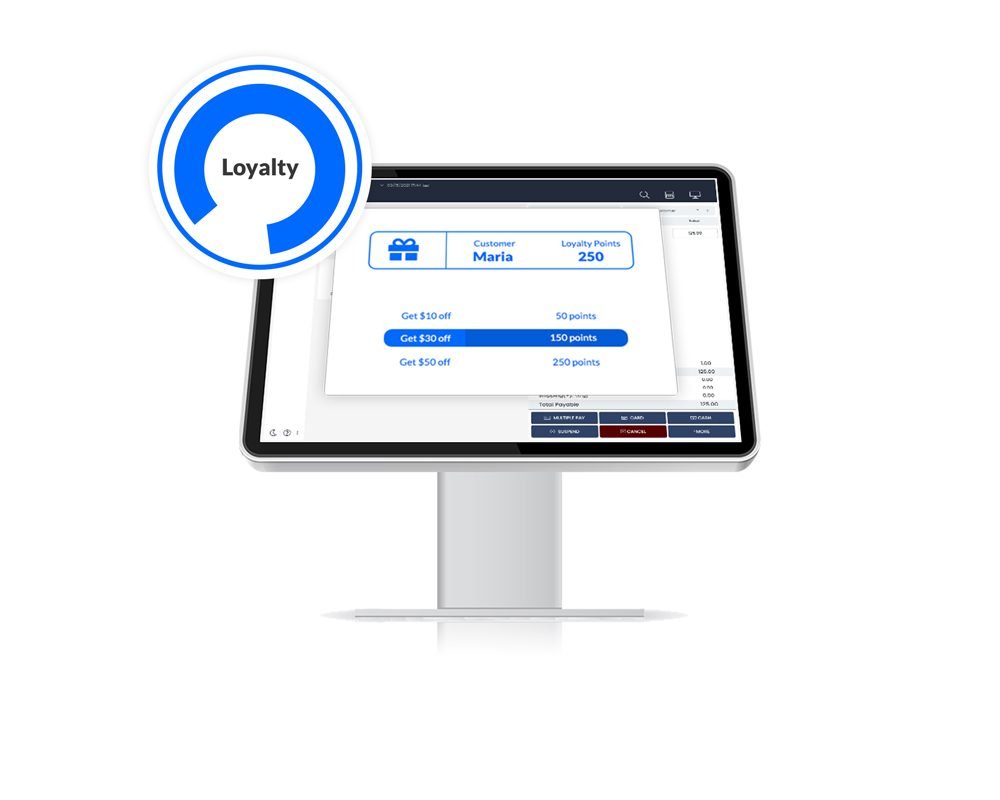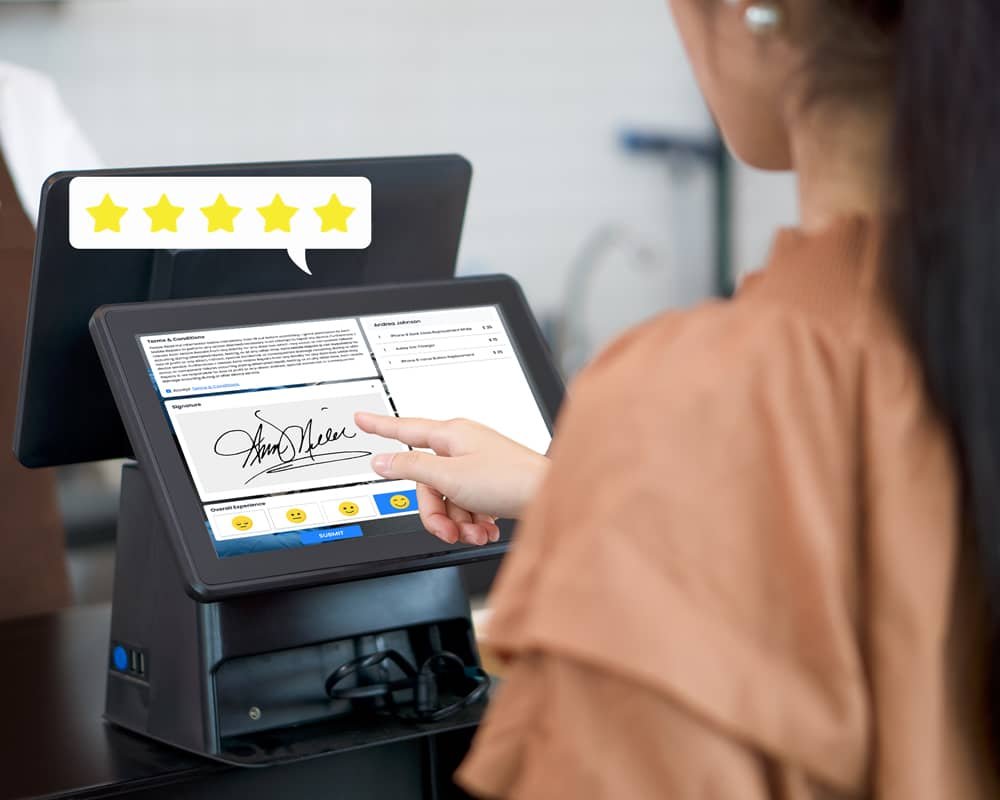 Ensure fast and reliable checkout process at your repair store.
Create quotations, book repair jobs, print professionally designed invoices, and collect customer feedback through customer-facing display.
Add new or search for existing customers and create custom menus to personalize the POS accordingly

Send professional quotations via emails straight from the POS and convert them into invoices conveniently

Use the search bar to scan and browse any product or service to save time

Change the statuses of tickets and immediately notify your customers via email and SMS notifications
What makes SalesPush Repair POS preferable?
SalesPush provides a cost-effective POS software that is tailored to your industry needs and has the right tools to nurture and grow your business.
The solution provides matchless customizations to the entire layout with absolute command over your inventory.
Manages your business operations altogether through comprehensive insights, relevant integrations, extensive control over employees while implementing satisfactory end-user experience.
What happens to my current inventory and customer data if I migrate to SalesPush?
Simple import tools are in place to add and update inventory data into a CSV template file and upload it to SalesPush.
The same easy process will be applied while uploading your supplier's and customer's data.
Can I convert estimates into repair tickets/invoices from the Point of Sale?
Yes, estimates can easily be converted into tickets. If required, while converting an estimate into a ticket, you can make changes to the estimate as well.
Can I sell other products with a repair job?
Yes. A repair job can include services, parts, and products. All would be displayed separately in the line items. The details would be displayed on your invoice as well for the convenience of your customers.
Can I send repair completion notifications to customers from the POS?
You can automate notifications for sms and emails. Customer notifications can be set up for various activities such as a new booking, a quotation, repair task completion, payments received, payment reminders and many more options.
Can I offer and redeem loyalty points from the POS?
With SalesPush, you develop a strong bond with customers by maintaining loyalty points.
Increase customer visits by implementing a loyalty module on the POS, providing discounts to your customers on point redemptions.
Set the minimum amount the customer should spend to get loyalty points and through flexible settings, decide maximum loyalty points a customer can redeem in one go.