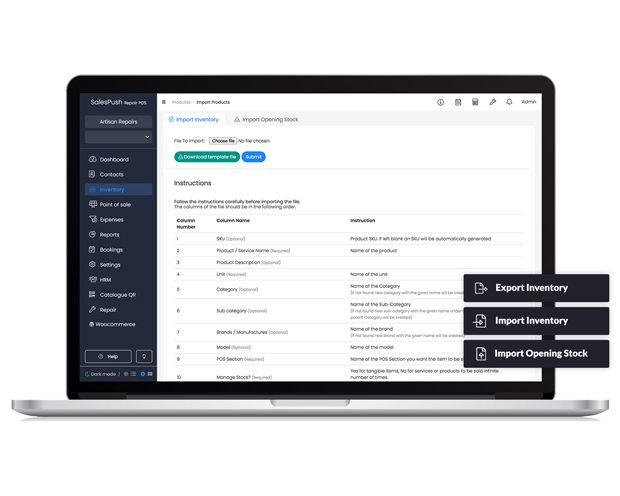 Upload your stock to the system in a few clicks.
Easily add your inventory into the system by using any one of our intuitive methods allowing you to significantly reduce the time you spend on such time-consuming tasks.
Carefully designed templates to add a category, brand, model, pricing, and taxation while managing stock levels

Specify the POS menu where you want the added inventory item to be displayed in

Offer a wider range of products by creating product bundles and variations

Add products and services once and sell them infinite times to avoid re-entering stock levels
Advance stock management for your repair shop.
Create POs, RMAs, and GRNs, all from inside the same system with cross-module connectivity to centralize your repair shop inventory.
Keep a better track of every shipment by creating multiple goods received notes for an order

Enter the physical location of your stock, such as rack, row, and position, to find out the exact placement

Create return merchandize authorization against damaged received products while maintaining records

Recover cost for inventory in case of any incident through the inventory adjustment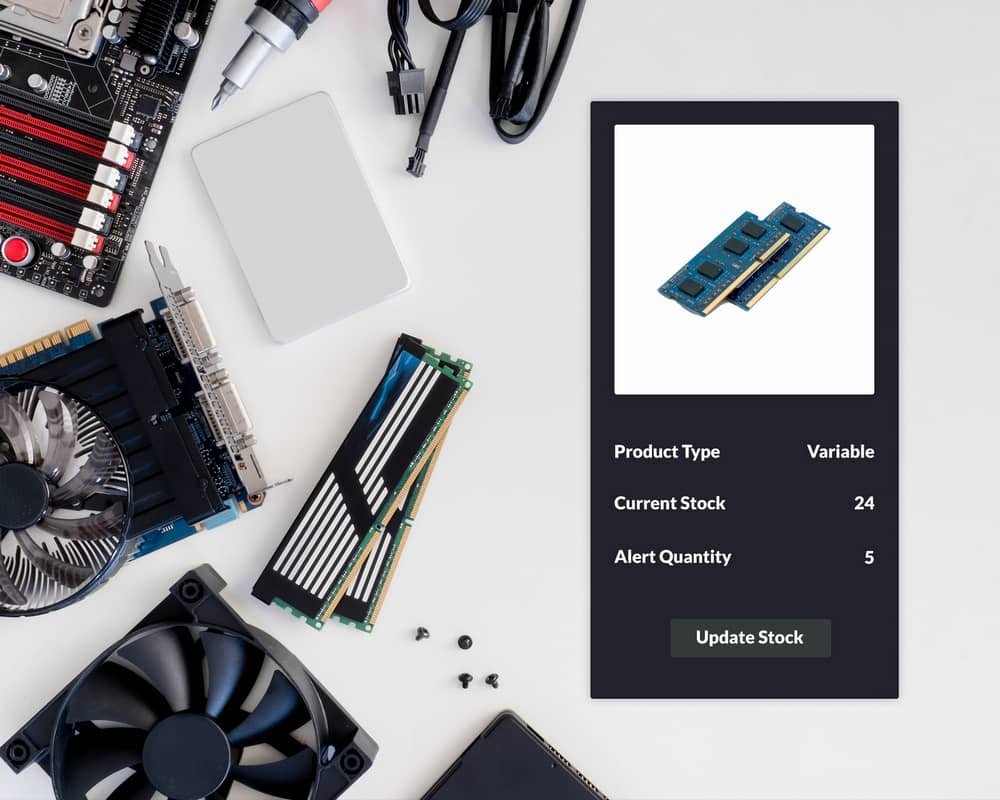 Customizable inventory control that adapts your workflow.
Add products or services, maintain serialized inventory, create product bundles and variations from within just a few clicks all in SalesPush.
Better manage your stock, add and pick the product units that work best for your business
Transfer stock conveniently between multiple locations while keeping its record
Create selling price groups to sell the same items at different price points
In-depth analytics of your inventory that keeps you up to date of all the in's and out's
Automate your promotions and never let an item go to waste.
Sell items faster with reminders about the product expiration. Set the expiration discount and sell products hassle-free.
Enter the expiration date for an added inventory item to get notified about them approaching expiry
Determine the number of days for when notifications would appear on your dashboard about expiring products
Manage product's expiry through business location, category, brands, units, and timeline
Define the discount percentage that get s applied once the product exceed their best before date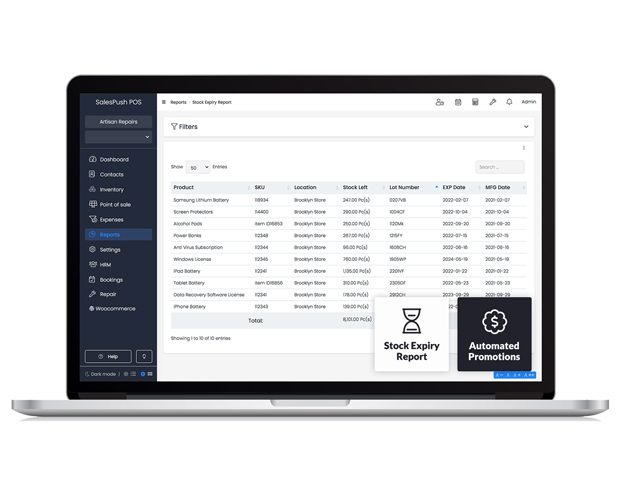 What if our store does not manage inventory?
Not a problem. With the customization level of our Point of Sale, you can decide if you want to manage the stock levels of your inventory or not.
What happens to my current inventory data if I migrate to SalesPush?
With SalesPush, data migration has been simplified through our Import tools. Simply add your inventory data into our CSV template file and upload it to SalesPush POS.
Can I create variations of the same products?
Yes. Our extensive inventory management tool helps you in having multiple variations for the same inventory items to help you distinguish between different varieties of the same items.
Does the system allow to create product bundles?
SalesPush enables you to create multiple product bundles or combos, to combine multiple products as a bundle, which results in increased revenue.